Malaysia managed to steer its economy through COVID – 19 moderately in 2020 compared to its regional peers. However, the wake of 2021 witnessed an increase in daily cases which caused the Government to impose tighter measures to contain the pandemic. Despite this, Malaysia's momentum for growth is on track.
For a start, Malaysia's trade performance remained strong charting a new record high in April 2021 with a year – on – year growth of 43.2%. Exports surged by 63% underpinned by high global demand for Electrical and Electronic, Rubber as well as Petroleum products while imports increased by 24.4%.  Malaysia gained its investment momentum in the first quarter (Q1) of 2021 through RM80.6 billion worth of approved investments in the manufacturing, services and primary sectors, involving 993 projects generating 32,557 jobs, a record surge of 95.6% from RM41.2 billion in the same period in 2020. The manufacturing sector maintained the lead in approved investments for Q1 2021, recording RM58.8 billion, followed by the services sector at RM15.6 billion and the primary sector at RM6.2 billion.
In terms of inbound investment, Malaysia remains a competitive investment location for foreign investors. Total approved foreign direct investments (FDI) in the manufacturing, services and primary sectors increased by a whopping 383.4% to RM54.9 billion in Q1 2021 compared to RM11.4 billion in the same quarter last year.
Singapore (RM43.1 billion), the Netherlands (RM5.0 billion), the Republic of Korea (RM4.3 billion), Chinese Taipei (RM0.5 billion), and Hong Kong (RM0.3 billion) were the top five countries in accordance to reporting by immediate source of FDI.
The fact that foreign investors' confidence in Malaysia has not been swayed is solidified through the FDI contribution of 88.9% to the overall manufacturing sector's growth. The leading sources of foreign investments in the manufacturing sector were Singapore, the Republic of Korea, the Netherlands, Chinese Taipei, People's Republic of China, the United States of America, Switzerland, Denmark, Germany, and Hong Kong. These ten countries jointly accounted for 99.8% or RM52.1 billion of total foreign investments approved in the manufacturing sector for this period.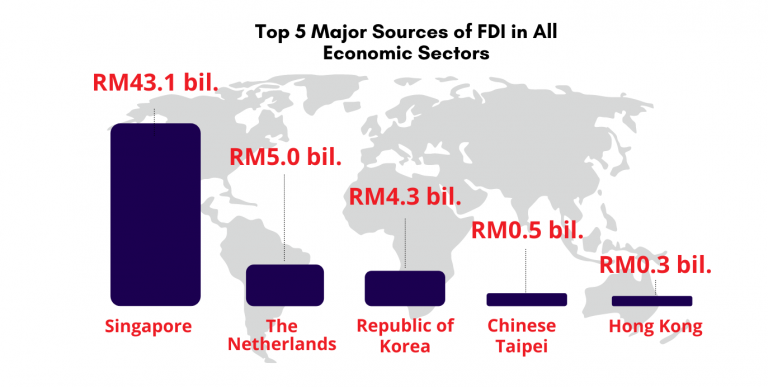 Domestic investment on the other hand contributed 31.9% to the total approved investment in the manufacturing, services and primary sectors. Although at a lower percentage, domestic players continued to dominate the services sector recording RM15.0 billion or 96.2% of the total approved investments for the services sector for the first quarter of 2021.
The services sector in general recorded an increase of 3.5% during Q1 2021 compared with the same period in 2020. An increase in investments was recorded in the financial services, distributive trade, education services, real estate and global establishments. Collectively, the leading contributors include real estate (RM8.9 billion), financial services (RM2.7 billion), utility (RM2.0 billion), support services (RM1.2 billion) and distributive trade (RM0.5 billion).